Uw IT wel of niet uitbesteden?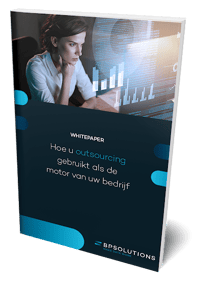 Veel organisaties komen vroeg of laat voor die vraag te staan. IT is een krachtig instrument om snel aan verwachtingen van klanten te kunnen voldoen. Maar als IT-talent schaarser wordt, budgetten voor IT en innovatie onder druk staan, is het up and running houden van 'mission critical IT' een hele uitdaging. Compleet of gedeeltelijk outsourcen is een grote stap, maar wel een die zorgt voor de rust en ruimte die nodig is om te vernieuwen.
In deze whitepaper leest u:
Wat de voordelen van outsourcing zijn;

Wat de valkuilen zijn;

Welk outsourcingsmodel het beste bij u past.
Vul het formulier in en ontvang het whitepaper