BPSOLUTIONS & RUBRIK
BPSOLUTIONS is Rubrik Business Partner en beschikt over een uitgebreid portfolio bestaande uit o.a. cloud- en datacenteroplossingen. Rubrik bevindt zich op hetzelfde speelveld en is met zijn focus op innovatie en kwaliteit een uiterst betrouwbare partner van BPSOLUTIONS.
Rubrik oplossingen
Rubrik wordt door Gartner genoemd als 'Leader' in het Magic Quadrant. Dit komt door de moderne kijk op cloud data management. BPSOLUTIONS gebruikt Rubrik technologie ook in haar eigen Managed Services in grote Enterprise omgevingen.
Managed cloud data management & protectie
BPSOLUTIONS beschikt over de hoogst gecertificeerde medewerkers op het gebied van Rubrik en kan uw verschillende omgevingen 24x7 beheren.

Meer informatie?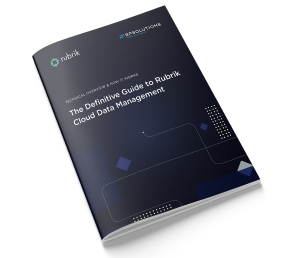 Wilt u een offerte of meer informatie over onze Rubrik oplossingen, producten en diensten? Of zoekt u hulp bij de implementatie van een Rubrik oplossing? Download dan het whitepaper of neem contact met ons op via het contactformulier.


Onze Rubrik specialisten:
Bo-Nathan London

Matthijs Vieselman

Jurgen
Mulder

Eric
Lokhorst
João
Pereira

Stefan
Folkerts

Mark
Jansen

Louis
Joosse

Whitepaper:
The definitive guide to Rubrik cloud data management
Lees meer over de mogelijkheden
OVER BPSOLUTIONS
Sinds de oprichting van BPSOLUTIONS in 2001, BPSOLUTIONS helpt organisaties hun Mission Critical IT in te richten op een manier waardoor de organisatie slimmer wordt en daardoor vooruitgang kan boeken.

Dit doen wij door aan de ene kant te zorgen dat de IT up and running is en blijft en aan de andere kant zorgen we er met Data Analytics en AI voor dat bedrijven klaar zijn voor de toekomst, waarmee data echt voor uw bedrijf gaat werken.

Bij alles wat we doen, maken we de wereld een beetje slimmer.