Rapid acceleration in reporting through SAP HANA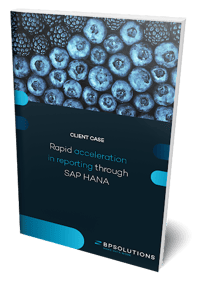 With the end of the support period for the existing SAP landscape in sight, the Wessanen food company wanted to be at the forefront of the migration to HANA. A tough challenge, that has been transformed into an opportunity with help of BPSOLUTIONS. Using the new solution, the business can be provided with information much faster, because producing reports now requires far less time.

In this client case you will learn more about:
The challenge of Wessanen;
The added value of HANA;
Which solution has been chosen;
Why the choice was made for BPSOLUTIONS;
How the cooperation will go further.
Fill out the form and receive the client case